Assemblymember Holden Hosts Interactive Town Hall on the State Budget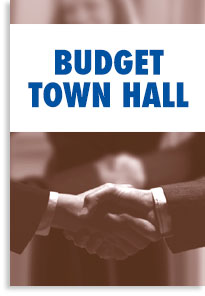 La Verne – Want to understand how the California state budget works?
Assemblymember Chris Holden and the University of La Verne are hosting the "Next 10 Budget Town Hall" in which audience members get a say in putting together a budget. This interactive event is free and open to the public: Policy issues will be discussed and voted on.
Next 10 Budget Town Hall
Thursday, May 7, 2015
6 - 8 p.m.
University of La Verne Abraham Campus Center
2000 Second Street (at C Street)
"Free parking available in shuttle Lot S, A and Arrow Hwy".
RSVP – Office of Assemblymember Holden 626.351.1917 or email @ Assemblymember.Holden@assembly.ca.gov